Water Conservation and Efficiency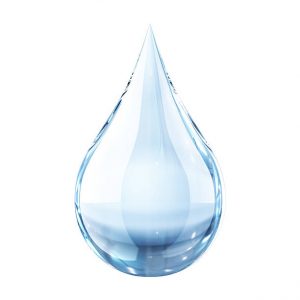 California Drought 2023
Water-Saving Programs
Education & Outreach Programs
Water Waste
Learn More
Drought conditions remain in effect as 2022 was one of the driest years on record.
The United States Bureau of Reclamation declared a Level 1 shortage for the first time ever for Lake Mead reservoir on the Colorado River, resulting in water cuts for Arizona, Nevada, and Mexico.
On October 19, 2021, Governor Newsom extended the drought-related State of Emergency to Southern California, including San Diego County. The governor asked Californians to re-double efforts to curb water consumption by 15 percent to preserve water supplies.
On December 7, the State Water Resources Control Board readopted Emergency Regulations prohibiting certain wasteful water use practices and encouraged residents to continue to use water efficiently.
On December 13, Metropolitan Water District's Board of Directors declared a Regional Drought Emergency for all of Southern California. The declaration calls upon water agencies to reduce their use of imported water supplies to help lessen the severity of a potential mandatory water supply allocation in the coming spring.
With the forecast by the National Weather Service's Climate Prediction Center of continued dry, warm weather, drought conditions may continue to worsen.
On March 28, 2022, Governor Newsom signed another drought Executive Order that directed the State Water Resources Control Board to consider requiring urban water suppliers to activate, at a minimum, Level 2 of their water shortage contingency plans. OMWD is currently in Level 1 of its Water Shortage Contingency Plan, meaning that customers are asked to implement a variety of measures to reduce water waste. The Executive Order also directed the SWRCB to evaluate the adoption of regulations banning the irrigation of decorative grass at businesses and institutions.
On May 24, 2022, in response to Governor Newsom's Executive Order, the SWRCB adopted an emergency water conservation regulation requiring that all urban water suppliers in California implement Level 2 water use reduction actions outlined in their Water Shortage Contingency Plan. As a result, beginning June 10, 2022, OMWD strongly encourages following water-saving measures:
Restrict outdoor irrigation to no more than three days per week under the following schedule

Odd-numbered houses irrigating on Sunday, Tuesday, and Thursday
Even-numbered houses irrigating on Monday, Wednesday, and Saturday

Restrict outdoor irrigation to no more than 10 minutes per watering station for systems not using water-efficient devices (i.e., weather-based controllers, drip/micro-irrigation systems, and stream rotor sprinklers)
Repair leaks within 72 hours of notification by OMWD
Discontinue use of ornamental fountains or water features that use potable water
While these additional prohibitions and water-saving measures are currently voluntary for OMWD customers, state officials have indicated that mandatory water use restrictions will be imposed if the current methods are not effective in reducing statewide potable water demands. Visit our Water Conservation Practices page for a full list of current water use regulations and information regarding prohibitions for homeowner associations during a drought state of emergency.
On August 11, 2022, Governor Newsom announced a new water supply strategy focused on accelerating infrastructure projects that would better prepare California for perpetual years of drought. The new plan, California's Water Supply Strategy: Adapting to a Hotter, Drier Future, highlights the significant challenges we face as a result of climate change and the importance of investing in California's water systems to ensure the long-term sustainability of our supplies. The Governor's new plan focuses resources on the development of new water supplies, expanding water storage capacity, increasing water use efficiency, and improving methods to manage water through technology.
In an effort to become drought resilient, OMWD continues to diversify our water supply sources to reduce our reliance on imported water. For example, OMWD is working on several recycled water expansion projects, we continue to explore the feasibility of a brackish groundwater desalination facility in our service area, and we also benefit from water produced at the Carlsbad Desalination Plant. OMWD customers have become more efficient in how they use water, and because of their investments over the last few decades in alternative water supplies, OMWD does not anticipate a water supply shortage at this time.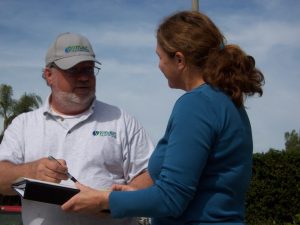 FREE Water Use Evaluations
Take advantage of our water use evaluation service to help you save both water and money. OMWD offers this service free of charge to promote water use efficiency.
My Water Use
The My Water Use digital dashboard is designed to give you easy access to timely information about your water usage.
Rebates
Save money on improvements at your home or business by applying for rebates on water-saving devices and landscape transformations.
California-Friendly Demonstration Garden
Located at OMWD headquarters, our garden provides tangible examples of water‐efficient landscaping techniques that can save water and money.
Workshops and Tours
Learn more about efficient water use and the value of water at one of our free workshops or tours.
WaterSmart Landscape Contest
Inspire others to conserve by showing off your water-efficient yard in our annual interagency WaterSmart Landscape Contest.
The San Diego Sustainable Landscapes Program
The program is a resource to assist San Diego County residents in adopting sustainable landscaping best practices through education and training, technical assistance, and landscaping materials.
School Programs
OMWD believes in educating the next generation about the value of water through engaging student contests and educational opportunities.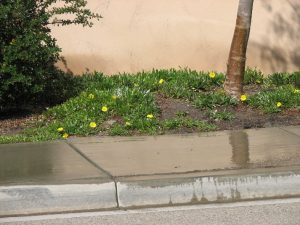 Report Water Waste
Let us know if you see water being wasted in the community by submitting a water waste report form or calling 760-632-4641. Please note that leak emergencies should be reported to our main line by calling 760-753-6466.
High Consumption & Leaks
Have you received an unusually high bill, or do you suspect you may have a leak? Learn how to check for leaks, troubleshoot high water use, and other helpful tips.
Stormwater Pollution
Help protect our waterways by reporting stormwater pollution to the appropriate jurisdiction.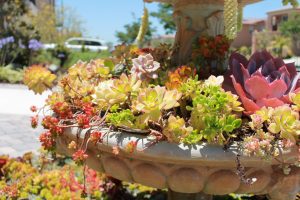 Landscaping Tips
Up to 80 percent of residential water use in our area goes to landscape irrigation. One of the biggest ways to make an impact on your water use is to improve irrigation efficiency. OMWD has some great tips to get you started.
Graywater Reuse
Learn how the average household can save up to 12,000 gallons of water a year by using the same water that washed your clothes to water your landscape. 
Conservation Resources
We have created a list of conservation topics meant to inform and inspire those looking to reduce their water use.
Water Conservation Practices
Under a drought-related State of Emergency, several wasteful water practices are prohibited. However, efficient water use and water-saving practices are always strongly encouraged. 
What are agencies similar to OMWD doing to impact statewide water use habits?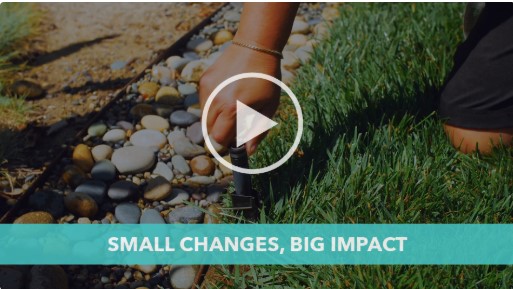 Association of California Water Agencies' "Small Changes, Big Impact" video, part of ACWA's video series "California H20: Flowing for the Future," highlights how other water agencies have utilized education campaigns and conservation programs that are similar to OMWD's programs.