San Elijo/San Dieguito Valley Groundwater Project

---
Background
San Diego County relies heavily on imported water from far-off places like the Sacramento-San Joaquin Delta and Colorado River to serve its customers.
As imported water costs have continued to rise and the availability of that water has become more uncertain, Olivenhain Municipal Water District started exploring development of local, sustainable water sources to diversify its water portfolio, such as recycled water and desalination.
One potential source of sustainable water development is local groundwater. This method would extract brackish groundwater from a nearby basin, treat it via reverse osmosis to potable standards, and deliver it to customers for uses like drinking water and fire protection.
Potential Project Sites
OMWD has been exploring the feasibility of brackish groundwater desalination in the San Elijo and San Dieguito Valleys.
Data gathering in the San Elijo Valley has been underway since 2012. So far, studies indicate that this area has the potential to support one to two million gallons per day of brackish groundwater desalination, which could supply up to five percent of OMWD's potable water demand.
The San Dieguito Valley brackish groundwater desalination feasibility study began in the fall of 2016. The study examined a variety of factors to determine whether a brackish groundwater desalination project is possible in the area.
On December 12, 2018, OMWD's Board of Directors adopted a mitigated negative declaration as part of the environmental review process for this potential project. A pilot test well was constructed in April 2019 and a one-year pump test was recently completed to verify the water balance of the groundwater basin, potential impacts on current wells in the area, and water treatment technologies. The results of the pilot well pump test are available for review in the Design Pilot Report. The data collected from the pump test has provided positive indications that the basin can support a potential potable water supply. Based on these results, OMWD's Board of Directors has decided to approve further investigations intended to inform the ultimate decision to move forward with the project.
OMWD may opt to pursue a brackish groundwater desalination project in either the San Dieguito Valley or the San Elijo Valley. That decision will likely be based on several criteria including determining which area can provide the most cost-efficient and environmentally responsible water yields without impacting existing users.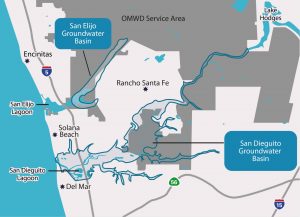 Cost
Since the brackish groundwater desalination project was conceived in 2010, it has garnered nearly $1,500,000 in grant funds from the United States Bureau of Reclamation, the California Department of Water Resources, and the Metropolitan Water District of Southern California. OMWD continues to seek grants to support the study of the potential project.
Project Support
The exploration of these two projects has been supported by several local, state, and federal agencies including the City of Encinitas, City of Solana Beach, County of San Diego Department of Parks and Recreation, San Elijo Joint Powers Authority, San Elijo Lagoon Conservancy, United States Geological Survey, Metropolitan Water District of Southern California, California Department of Water Resources, and United States Bureau of Reclamation.
For More Information
Please see the individual project pages linked above for more information, or contact Joey Randall, OMWD Assistant General Manager, at 760-753-6466.