OMWD Construction Projects
| | |
| --- | --- |
| | OMWD has several active and upcoming projects in its service area. Updates and important announcements on OMWD's larger capital improvement projects can be found on this page. If you have additional questions, please email our Engineering Department or call 760-632-4235. |
Current and Upcoming Projects:
Manchester Avenue Recycled Water Pipeline Project
To expand the availability of recycled water, OMWD is constructing the Manchester Avenue Recycled Water Pipeline Project, which involves the construction of approximately 1.4 miles of six-inch diameter recycled water pipeline. The new pipeline will expand recycled water service to the corridor along Manchester Avenue and South El Camino Real from Via Poco to Tennis Club Drive.
A mailer with additional project information was sent to neighboring businesses and residents in December 2019. Please note that some details, such as scheduling information, may have changed.
OMWD staff solicited public input and presented project details, as well as the benefits and requirements of using recycled water for landscape irrigation purposes, at a citizen's participation meeting on January 7, 2020.
Construction began in August, 2022 and the project is expected to be completed in 2023. 
Grants
OMWD works hard in pursuing outside funding to offset project costs. The Manchester Avenue Recycled Water Pipeline Project has been awarded approximately $1.8 million in grant funding. Specifically, this project has been awarded a $650,000 Proposition 84, Round 4 grant under the San Diego Integrated Regional Water Management Plan and $750,000 in Department of Water Resources Proposition 1, Round 1 funding. Furthermore, OMWD is finalizing a grant award from the US Bureau of Reclamation's Title XVI Water Reclamation and Reuse Program which will offset costs for the project by an additional $400,000.
Environmental Public Comment Period & Public Hearing
OMWD prepared an Initial Study/Environmental Checklist and Mitigated Negative Declaration that addresses the potential environmental impacts of the Manchester Recycled Water Pipeline Project. On November 13, 2019, OMWD's Board of Directors approved the release of the IS/MND document for public review and comment. The comment period ended January 15, 2020. A public hearing was held in OMWD's boardroom on January 15, 2020 to receive comments on the IS/MND.
Manchester Recycled Water Quantity Estimate and Plans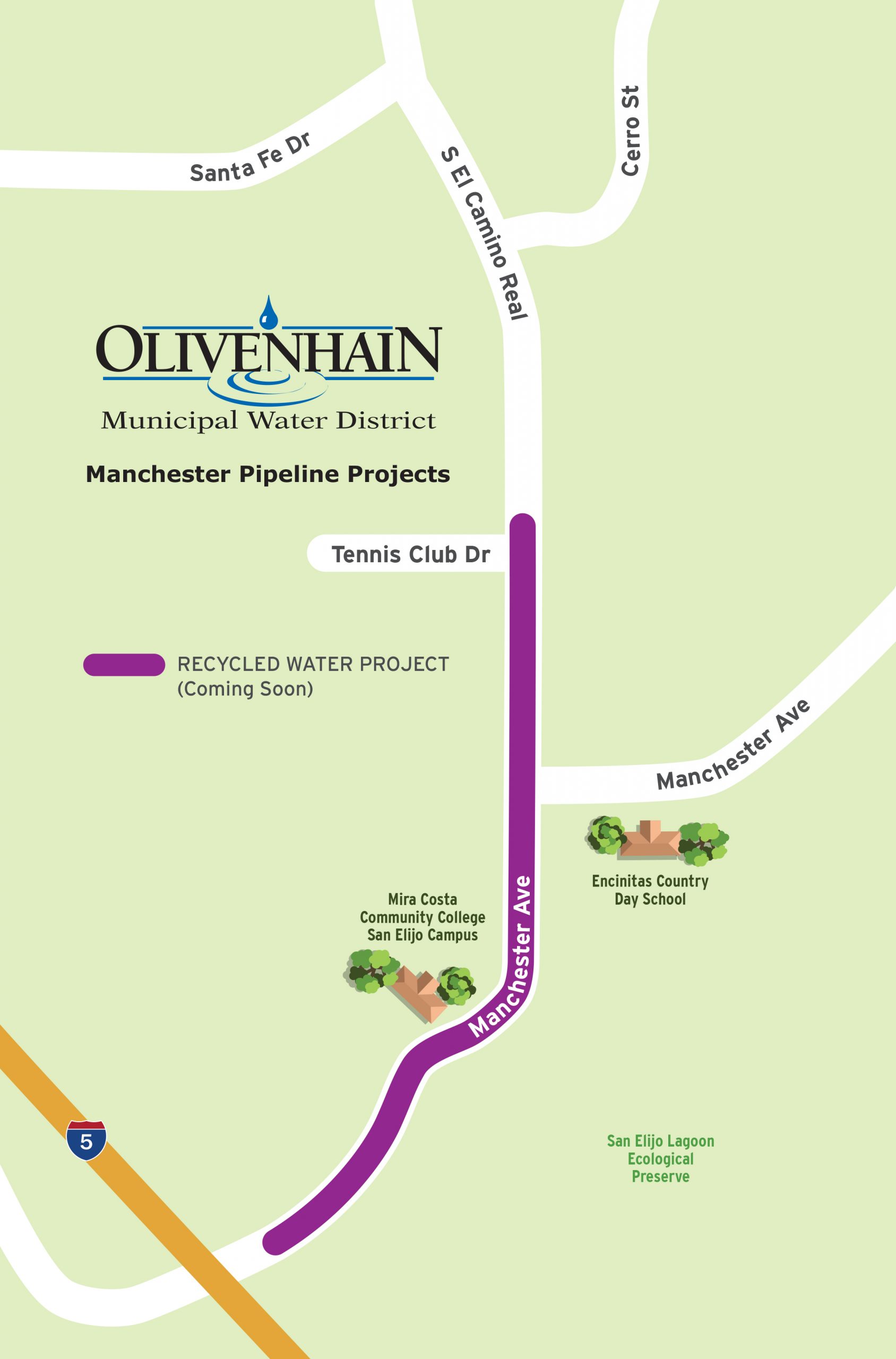 4S Ranch Neighborhood 1 Sewer Pump Station Replacement Project
Pump stations are used throughout sewer collection systems to collect and push wastewater to higher elevations to connect to main lines that feed into reclamation facilities.
A sewer pump station located near the south end of 4S Ranch Parkway near the 4S Ranch Sports Park and Stone Ranch Elementary School has been identified as in need of replacement. The existing pump station is nearing the end of its useful lifespan. The new pump station will be more suitable for local conditions, more efficient in its operation, and will increase reliability and safety.
Construction of the new pump station is expected to begin in summer of 2022 and is anticipated to take approximately 13 months to complete. Due to the location, work will take place in the daytime, between the hours of 7 a.m. and 5 p.m. and we do not anticipate any interruptions in service nor traffic impacts to the surrounding area.
OMWD is committed to providing reliable service to its wastewater customers, and projects such as this are vital to ensure the continuity of our service. If you have questions or comments about the project, please send them to projects@olivenhain.com, or call 760-632-4235.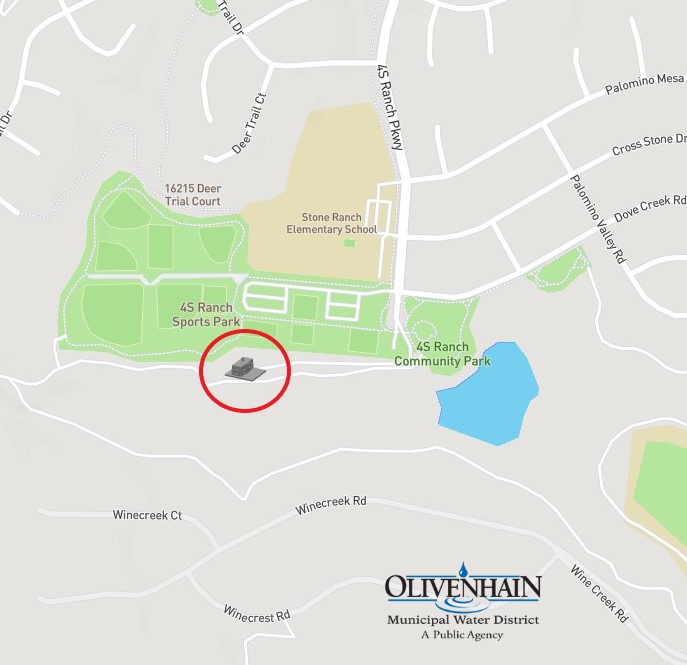 ---
Since pipes have a limited lifespan, OMWD invests in proactively repairing and replacing pipes throughout its service area, ensuring reliable water service to its customers. Many water agencies in California are tackling similar issues associated with aging infrastructure. View the video below to see how others in the water industry are also prioritizing pipe replacement.