OMWD Construction Projects
| | |
| --- | --- |
| | OMWD has several active and upcoming projects in its service area. Updates and important announcements on OMWD's larger capital improvement projects can be found on this page. If you have additional questions, please email our Engineering Department or call 760-632-4235. |
Current and Upcoming Projects:
Manchester Pipeline Projects
Two pipeline projects will commence in 2021/2022 that will occur in the Manchester Avenue corridor in Encinitas:
Manchester Avenue Potable Water Pipeline Project
Olivenhain Municipal Water District is committed to providing its customers with safe, reliable, and high-quality drinking water. This is why OMWD takes a proactive approach in repairing and replacing aging water infrastructure. These proactive measures help prevent disruptive main breaks while meeting your neighborhood's water needs.
Pipelines near the intersection of Rancho Santa Fe Road and Encinitas Boulevard were approaching the end of their lifespans. The Manchester Avenue Potable Water Pipeline Project is replacing and relocating the following:
Approximately 1,900 linear feet of 12-inch pipeline in Manchester Avenue from Colony Terrace north to Encinitas Boulevard
Approximately 450 linear feet of 12-inch pipeline in Encinitas Boulevard west of Rancho Santa Fe Road
Approximately 500 linear feet of 12-inch pipeline in Rancho Santa Fe Road north of Encinitas Boulevard
Approximately 850 linear feet of 8-inch pipeline in South Rancho Santa Fe Road
OMWD distributed an informational mailer and on June 11, 2020, OMWD hosted a virtual neighborhood meeting regarding the project. Staff provided project details and steps that are taken to reduce impacts to the community, and sought input from members of the public. Video of the meeting can be viewed here, but please note some of the information within the video, such as scheduling information, has changed.
Project Details
The majority of the project has been completed at night, per the City of Encinitas, between 9:00 p.m. to 6:00 a.m. However, the final phase of construction along Manchester Ave requires work during the day, starting November 1st, between 9:00 a.m. and 3:00 p.m. 
The project is currently on track to be completed in March 2022. OMWD will work carefully to minimize the duration of any temporary water service interruptions to customers. A city-approved traffic management plan has been implemented during construction to minimize traffic impacts. If you have additional questions or comments about the project, please send them to projects@olivenhain.com, or call 760-632-4235.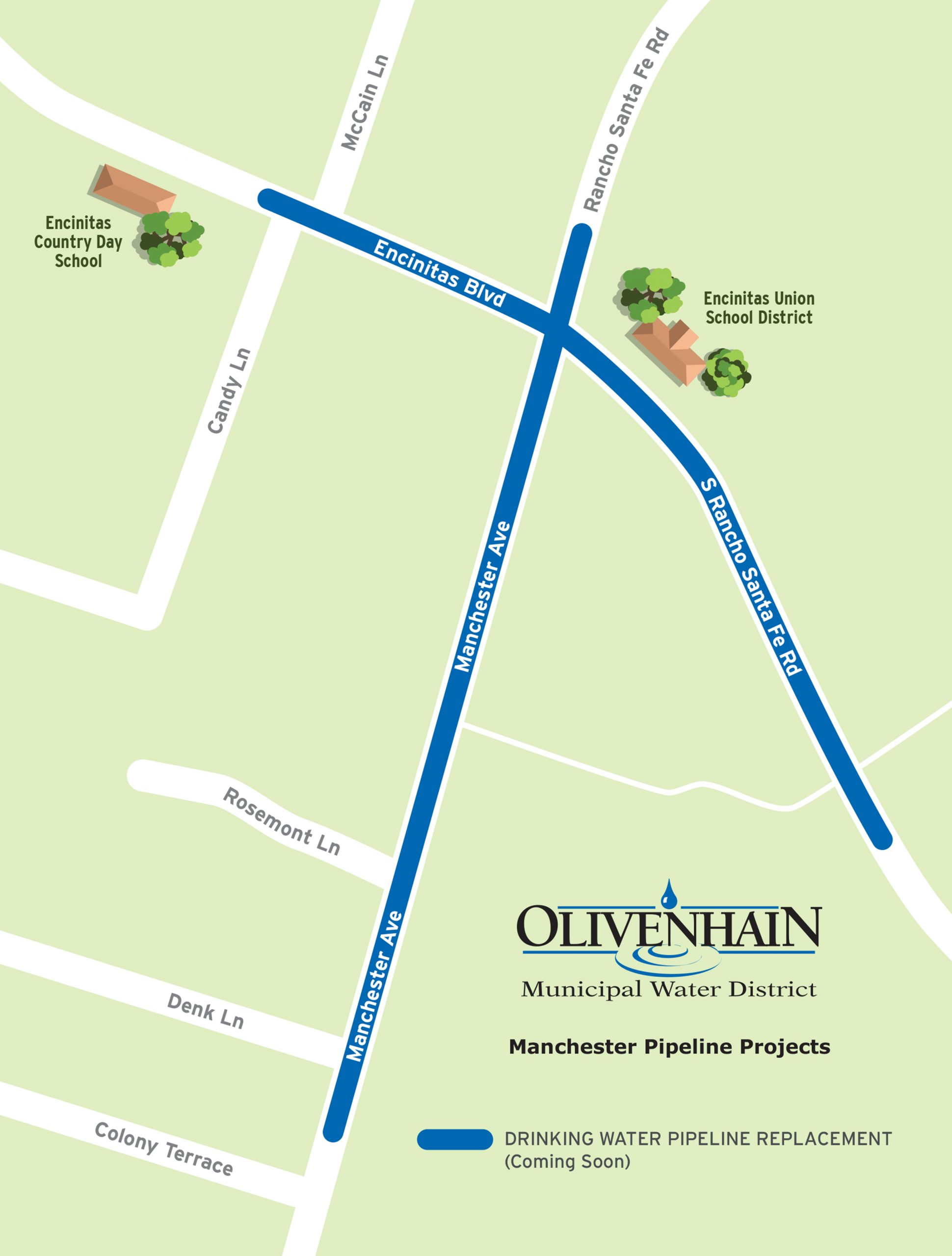 Manchester Avenue Recycled Water Pipeline Project
To expand the availability of recycled water, OMWD is planning to construct the Manchester Avenue Recycled Water Pipeline Project, which involves the construction of approximately 1.4 miles of six-inch diameter recycled water pipeline. The new pipeline will expand recycled water service to the corridor along Manchester Avenue and South El Camino Real from Via Poco to Tennis Club Drive.
A mailer with additional project information was sent to neighboring businesses and residents in December 2019. Please note that some details, such as scheduling information, may have changed.
OMWD staff solicited public input and presented project details, as well as the benefits and requirements of using recycled water for landscape irrigation purposes, at a citizen's participation meeting on January 7, 2020.
Construction is tentatively expected to begin in May 2022. 
Grants
OMWD works hard in pursuing outside funding to offset project costs. The Manchester Avenue Recycled Water Pipeline Project has been awarded approximately $1.8 million in grant funding. Specifically, this project has been awarded a $650,000 Proposition 84, Round 4 grant under the San Diego Integrated Regional Water Management Plan and $750,000 in Department of Water Resources Proposition 1, Round 1 funding. Furthermore, OMWD is finalizing a grant award from the US Bureau of Reclamation's Title XVI Water Reclamation and Reuse Program which will offset costs for the project by an additional $400,000.
Environmental Public Comment Period & Public Hearing
OMWD prepared an Initial Study/Environmental Checklist and Mitigated Negative Declaration that addresses the potential environmental impacts of the Manchester Recycled Water Pipeline Project. On November 13, 2019, OMWD's Board of Directors approved the release of the IS/MND document for public review and comment. The comment period ended January 15, 2020. A public hearing was held in OMWD's boardroom on January 15, 2020 to receive comments on the IS/MND.
Manchester Recycled Water Quantity Estimate and Plans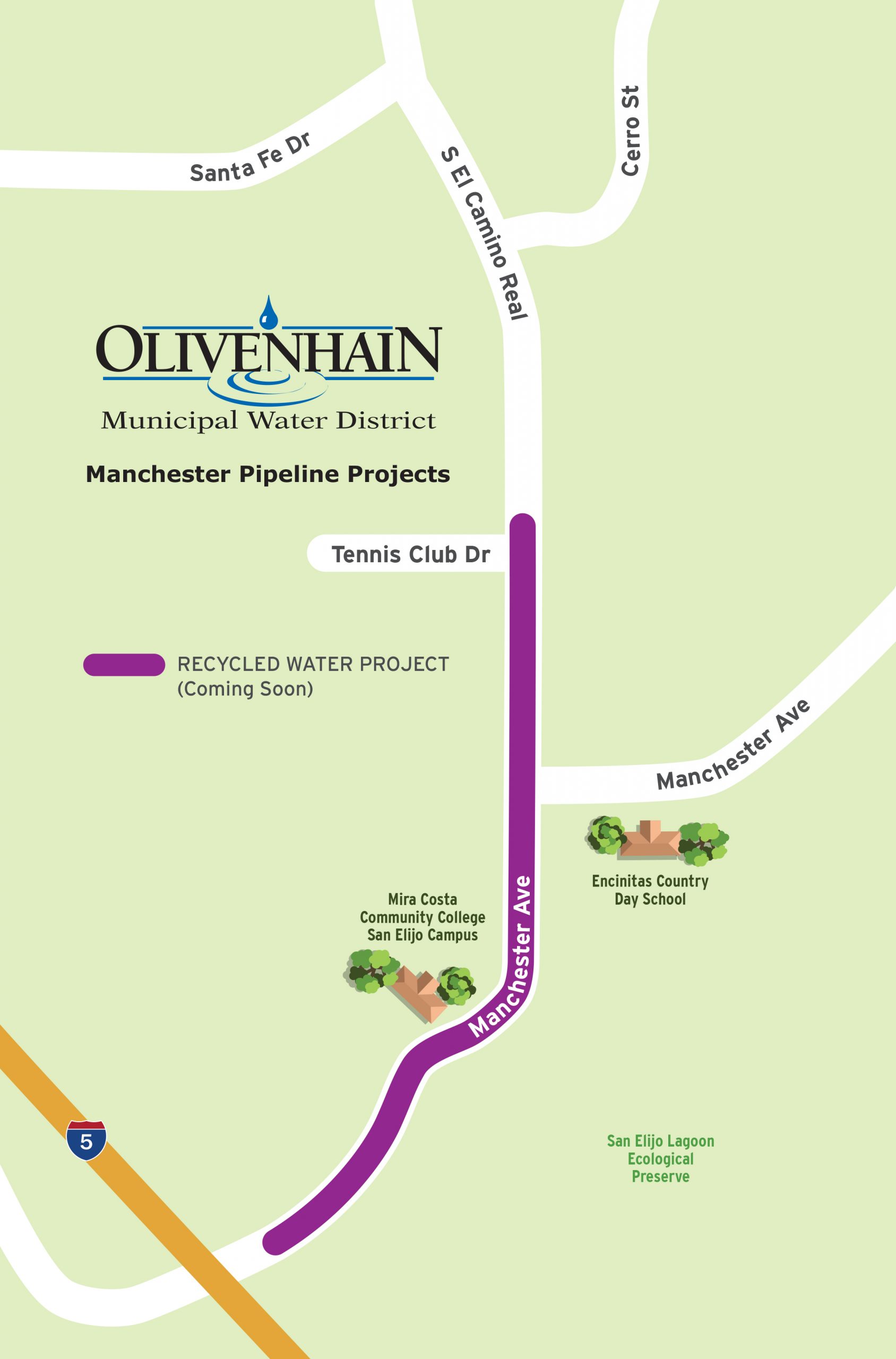 ---
Since pipes have a limited lifespan, OMWD invests in proactively repairing and replacing pipes throughout its service area, ensuring reliable water service to its customers. Many water agencies in California are tackling similar issues associated with aging infrastructure. View the video below to see how others in the water industry are also prioritizing pipe replacement.