Olivenhain Municipal Water District's Human Resources department provides a full range of services to employees and the public, including employee and labor relations, employee benefits and compensation, general manager and board compensation, recruitment and selection, safety and risk management, policy development, filing officer duties, records and contracts, and training.
It is and shall be the continuing policy of OMWD that all persons are entitled to equal employment opportunity, regardless of gender, race, color, ancestry, religious creed, national origin, mental or physical disability, age, marital status or registered domestic partner status, as defined in California Family Code, Section 297.
OMWD does not discriminate on the basis of disability in employment, access to, or operation of its programs, services or activities. If you are disabled and need an accommodation to participate in the testing and interview process, please notify us immediately. If you have questions or requests for additional information or accommodations under the Americans with Disabilities Act (ADA) for employment, please contact Human Resources.
For more information about employment at OMWD, please see below: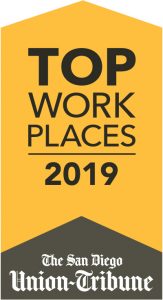 OMWD has been named one of San Diego's "Top Workplaces" by the San Diego Union-Tribune. The recognition is provided to those San Diego County employers best demonstrating workplace excellence based on anonymous surveys completed by employees. Here is what employees have to say on why they love working for OMWD.
"Amazing people who work hard, and because of that, bond and create a family."
"My job is an essential service for the community. The job is challenging and personally rewarding."
"I make a difference in the community every day."
"I know that the employees around me would provide assistance without question. Every employee that I talk to belongs here based on character and competence. Everyone is really good at their job."
"It's rewarding and I love the team spirit. I'm proud to be part of a team that leads by example."