To achieve its goals, Olivenhain Municipal Water District maintains a philosophy of a rewarding working environment, high level of customer service, open communication with the public, and a strong financial position. These elements are imperative for achieving long-range infrastructure plans to provide a sustainable water supply for generations to come. OMWD's board takes pride in its ability to carry out our responsibilities in a spirit of cooperation and consensus, aided by an experienced and competent staff.
Board Meetings
For a schedule of our board meetings and staff reports,
please visit our board meeting page.
Directors
OMWD is governed by a five-member Board of Directors elected for staggered four-year terms, with each director being elected from a specific geographic area of OMWD's service area. Current directors are as follows:
Lawrence A. Watt, President
Term of Office: 2020-2024
Mr. Watt, a veteran public works official with over three decades of public sector experience, was originally appointed to the board in 2011 and was elected in November 2012 to his first full term of office as the Division 2 representative. In addition to his duties as President, Mr. Watt serves on OMWD's Finance, Personnel, and Elfin Forest Recreational Reserve Executive committees.
Mr. Watt also represents OMWD on the Association of California Water Agencies Joint Powers Insurance Authority board. Prior to joining OMWD, Mr. Watt was Director of Public Works for the City of Encinitas and General Manager of San Dieguito Water District. Previously, Mr. Watt served as head of the County of San Diego Department of Public Works' Transportation Division and he has also spent time with the California Department of Transportation. An Encinitas resident and OMWD customer for over 35 years, Mr. Watt and his wife have three adult children who are proud Encinitas natives. Mr. Watt holds a bachelor's degree from Binghamton University and a master's degree from San Diego State University. He is a credentialed California Community College Instructor and a longtime member of the American Public Works Association.
Kristie Bruce-Lane, Vice President
Term of Office: 2020-2022
Mrs. Bruce-Lane is water advocate. She advocates for safe, clean, affordable and sustainable supplies of water for people, food production and environment. She was elected to the Board of Directors in November 2020 to represent Division 4. She currently serves on OMWD's Personnel, Ad Hoc Public Outreach, Ad Hoc Cybersecurity, and Elfin Forest Recreational Reserve Executive committees. A California native, Mrs. Bruce-Lane was born and raised in a large, agricultural family. She holds two Bachelor of Science degrees, one in Nutritional Science and the other in Crop Science with a minor in Biotechnology. She is a graduate of California Polytechnic State University, San Luis Obispo. She has an extensive healthcare and agriculture background.
A proud mother, businesswoman, and entrepreneur, Mrs. Bruce-Lane is also an avid community volunteer and serves on several non-profit boards which include Homeless Services Sub-Committee – Salvation Army, Southern California Healthcare Businesswomen's Association, Founder and President of The Thumbprint Project Foundation, Member of the Regional Task Force on the Homeless for San Diego, Board of Directors Lincoln Club, Past Chairman for Business Partnerships for Academy of Business and Technology Foundation, Member of California Advocacy for Nursing Home Reform, California Women's Leadership Association, Club 33-San Diego Rotary, and a Citizens Water Academy – San Diego County Water Authority graduate.
Kristie has her eye on the future and the many generations to follow.  She resides in the 4S Ranch area of San Diego with her husband and young son.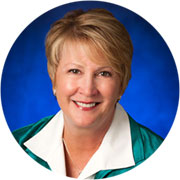 Christy Guerin, Treasurer
Term of Office: 2020-2024
Ms. Guerin was appointed to the board in January 2011 to represent Division 3, and won election to her first full term of office in November 2012. In addition to her duties as Treasurer, Ms. Guerin serves on OMWD's Finance, Ad Hoc Public Policy, Ad Hoc Public Outreach, and Ad Hoc Conservation  committees. 
Ms. Guerin's tenure at OMWD follows a long tradition of public service; she is a ten-year veteran of the San Diego County Sheriff's Department, and former council member and mayor of the City of Encinitas. In her capacity with the city, Ms. Guerin served on the San Dieguito Water District board and also represented the city on the San Diego Association of Governments' board. Ms. Guerin lives in Encinitas with her husband and is the mother of four children.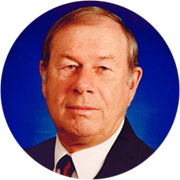 Robert F. Topolovac, Secretary
Term of Office: 2018-2022
Mr. Topolovac serves as the representative of Division 1 on the board, and is a member of OMWD's Safety, Ad Hoc Facilities, Ad Hoc Cybersecurity, and Ad Hoc Public Policy committees. He served for 2½ years as OMWD's representative to the San Diego County Water Authority and was Past Chair of the Authority's Legislative, Conservation, and Outreach Committee as well as a member of its Administrative and Finance Committee.
Mr. Topolovac is a tireless proponent of local government's need to protect the environment while tenaciously pursuing alternative, local water supplies. He retired from a 35-year career in higher and secondary education and presently serves as a volunteer sheriff at the Encinitas sheriff's station. Mr. Topolovac has been a resident of northern San Diego County since 1965 and currently lives in Rancho Santa Fe with his wife. Mr. Topolovac holds a master's degree in human relations and school administration from Ohio University.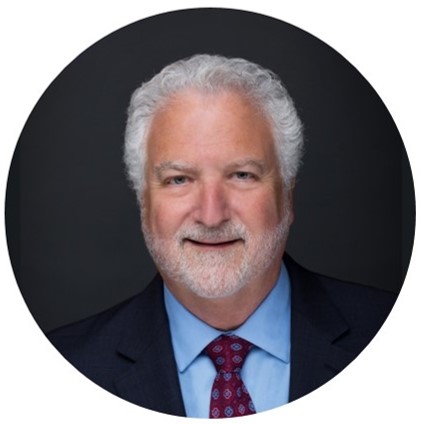 Neal Meyers, Director
Term of Office: 2021-2022
Mr. Meyers was appointed to the board in 2021 to represent Division 5. Since 1983, he has resided in the La Costa area of southern Carlsbad with his wife, a counselor at Palomar College. He is the father of three grown children. Mr. Meyers currently serves on OMWD's Safety, Ad Hoc Conservation, and Ad Hoc Facilities committees. He holds a certificate from the Special District Leadership Academy, and he was awarded a Certificate in Special District Governance from the California Special Districts Association. Mr. Meyers is a determined proponent of maintaining a safe, high-quality, and reliable water supply for OMWD customers while maintaining fiscal responsibility.
For 38 years, Mr. Meyers actively practiced law in North County, defending individuals, businesses, and public agencies in civil claims and lawsuits, including for water districts. As a businessman, Mr. Meyers co-founded and assisted in managing a successful law firm.
Mr. Meyers received his undergraduate degree in political science with a concentration in local government administration from Cal Poly, San Luis Obispo, where he earned Highest Honors. He graduated from law school at the University of San Diego. As an attorney, he received the highest possible rating in both legal ability and ethical standards from his peers.
Elections
OMWD's directors are elected officials representing each of OMWD's five divisions, and are selected by voters in the November general election in even-numbered years. Individuals interested in serving on the board are invited to visit the County of San Diego Registrar of Voters for the latest information on how to file as a candidate, including filing deadlines.