Elfin Forest Recreational Reserve Launches 17th Annual Amateur Photography Contest November 18
Olivenhain Municipal Water District invites amateur photographers of all ages to its Elfin Forest Recreational Reserve for the seventeenth annual amateur photography contest that will run from November 18, 2023 through April 21, 2024.
"For seventeen years, our contest has prompted visitors to capture Elfin Forest Recreational Reserve's stunning beauty from their unique perspective," said OMWD Board Director Marco San Antonio. "The contest promotes the importance of protecting wildlife habitat at the reserve so that future generations may also enjoy the many wonders it offers."
Winning photos will be selected from five categories—Scenic View, Water Scenery, Plants, Animals, and Youth (photographers age 15 and under). In addition, there are also Best in Show and People's Choice awards. Winners are eligible for prizes donated by local businesses, such as passes to the San Diego Zoo, EcoVivarium Reptile Sanctuary, and California Wolf Center; a canvas print from PC Photo and Imaging; outdoor equipment from REI; and a $100 cash prize from the Escondido Creek Conservancy. Additionally, winning images will be displayed at the Elfin Forest Interpretive Center Honoring Susan J. Varty from July through December in 2024. OMWD's Board of Directors will honor contest winners at its June 19, 2024 board meeting.
The 784-acre reserve was developed by OMWD in partnership with the San Diego County Water Authority and the US Bureau of Land Management as an element of the Olivenhain Water Storage Project and the Authority's Emergency Storage Project. The reserve's 11 miles of hiking, mountain biking, and equestrian trails provide opportunities to photograph Escondido Creek; native plant communities; the Pacific Ocean; Channel and Coronado Islands; and Laguna and San Bernardino mountain ranges. Contest entries must feature the reserve as their subject or be taken within the reserve from any designated trail.
Visit www.olivenhain.com/photo for official contest rules and to upload a maximum of four contest entries. There is no entry fee.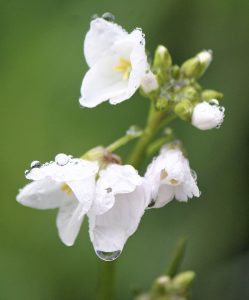 "Dewdrops" by Francis Bova – 2023 Best In Show Award