For questions about programs for schools in OMWD's service area, call 760-632-4641 or email us.
Annual Fourth Grade Poster Contest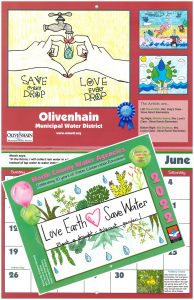 Olivenhain Municipal Water District encourages all fourth-grade students living in OMWD's service area to participate in our annual poster contest, helping us prepare for Water Awareness Month celebrations each May.
The purpose of the contest is to increase awareness in our future community leaders about water resources, treatment, and conservation. Poster contest entry forms are due to OMWD by April 4, 2022.
Artists of our top three posters receive prizes and have their posters featured in the following year's North County Water Agencies' Calendar, in the press, and in OMWD public outreach. The teacher of the student who draws the top poster will also receive a $50 classroom grant in the form of a Lakeshore Learning Gift card.
The 2022 calendar featuring last year's winners is available free of charge. Please call 760-753-6466 or email us to request your copy.
School Assemblies
Regional school assembly programs are not being held during the COVID-19 pandemic. However, San Diego County Water Authority and Shows That Teach have partnered to produce a series of free online educational videos. Learn about our local water supply, how clean tap water is produced, water conservation, and more by viewing the playlist.
Splash Science Mobile Lab — The field trip that comes to you!
OMWD sponsors six visits by the San Diego County Office of Education's Splash Science Mobile Laboratory in its service area each school year. This award-winning program is popular with both students and teachers. The program allows children to experience firsthand many of our local water issues such as groundwater pollution, pond ecology, water quality, weather and climate, soil types and percolation, and microbiology. It is a mobile field trip brought right to your school.  
Speaking Engagements & Public Appearances
OMWD employees provide outreach services throughout the year, including custom classroom presentations and staffing an informational booth at community events upon request. Past topics include:
Protecting our waterways from pollution
Saving water in California
California's water supplies—past, present, and future
Water-smart gardening principles and climate-appropriate plants 
Elfin Forest Recreational Reserve
Our Reserve's webpage is updated with ongoing events such as weekend presentations and hikes, classroom Ranger visits, and field trip opportunities.
Free Water Education Foundation Materials
OMWD will deliver Water Education Foundation materials to your school.
Regional School Programs Offered by the San Diego County Water Authority and Metropolitan Water District
More Resources