OMWD's Budget Recognized for Sixteenth Consecutive Year by Government Finance Officers Association
At its February 15 meeting, Olivenhain Municipal Water District's Board of Director's accepted the Distinguished Budget Presentation Award for its 2016-2017 fiscal year budget document from the Government Finance Officers Association (GFOA) of the United States and Canada, marking the sixteenth consecutive year OMWD has achieved this award.
GFOA established the Distinguished Budget Presentation Award Program to assist agencies in preparing a budget document that effectively serves as a financial plan, a communications device, a policy document, and an operations guide. OMWD's budget provides the public with easy access to how funds are being spent each fiscal year, reinforcing accountability and transparency to ratepayers.
"OMWD is honored to have GFOA confirm that our method of financial reporting utilizes the best practices available in developing a sustainable, structurally balanced budget to guide our organization," stated Edmund Sprague, OMWD Board Treasurer and Ad Hoc Finance Committee member. "Our board has set a clear policy for staff to seek every opportunity to contain costs in all operations while maintaining the high level of customer service our ratepayers have come to expect."
To reduce the impact of increasing wholesale water costs to customers, OMWD has implemented various cost mitigation efforts. Recently, OMWD took advantage of historically low interest rates, and capitalized on a favorable AAA bond rating, to save ratepayers $2.7 million in net present value savings from a recent bond sale and refinance.
To ensure that growth in OMWD's service area pays its fair share, OMWD's Board of Directors reviews developers' fees and other charges annually. Ultimately, this means that the burden of new and replacement water infrastructure is borne proportionately by current as well as future water ratepayers. OMWD also proactively maintains its facilities to avoid the high cost of reactionary repairs, applies for grants to offset future capital spending, develops partnerships to share project costs, and utilizes the latest technology to improve efficiency.
OMWD's budget document is accessible to the public online at www.olivenhain.com/budget.
GFOA is the professional association of state/provincial and local finance officers in the United States and Canada, and has served the public finance profession since 1906. GFOA members are dedicated to the sound management of government financial resources.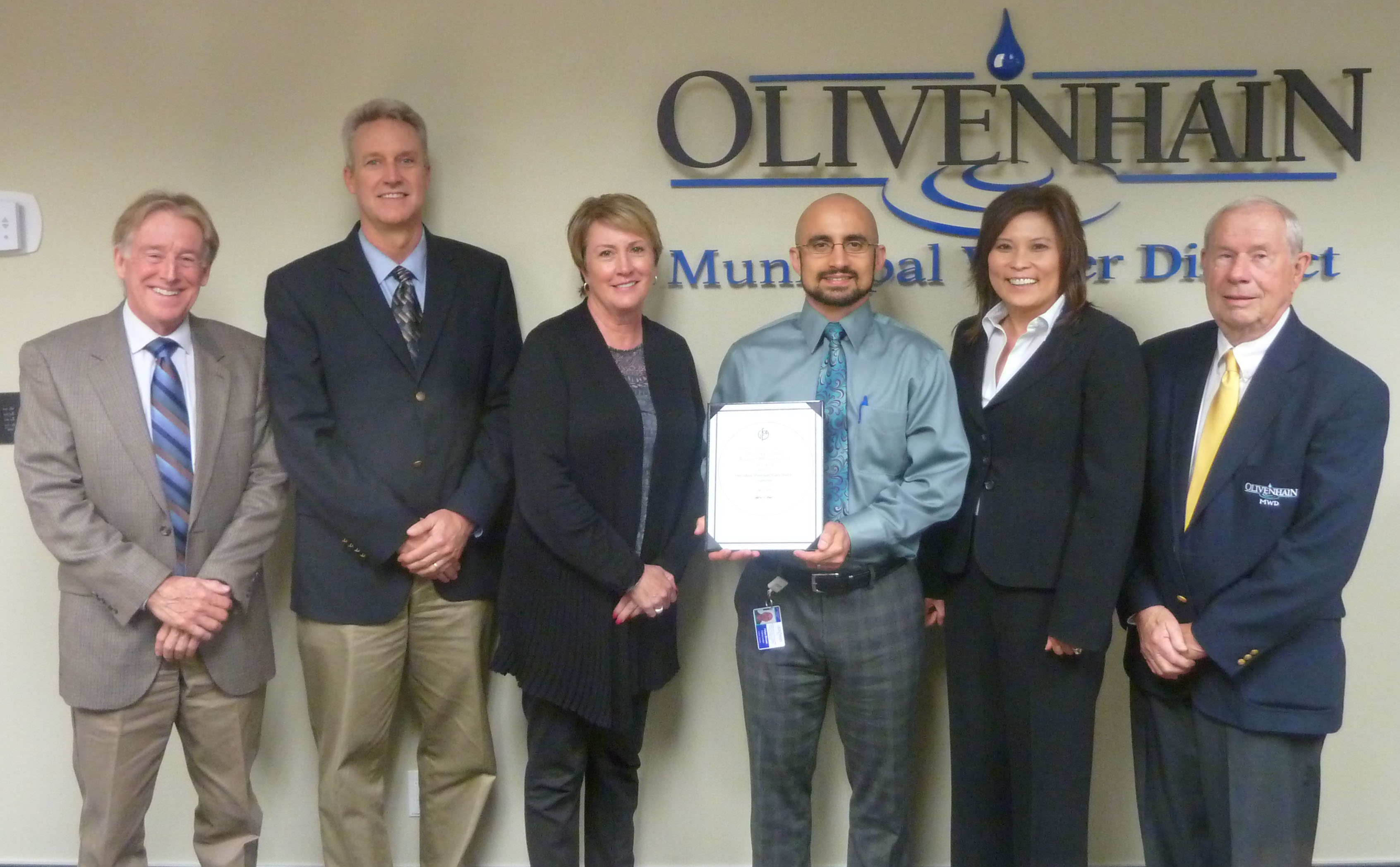 Board and Finance Staff Accept Budget Award