Larry Watt Returns to Past Position of President of OMWD
On Wednesday, Olivenhain Municipal Water District's board director Larry Watt presided over his first meeting of 2017 as president. President Watt was sworn in with directors Edmund Sprague and Christy Guerin at the December 4, 2016 board meeting following their November re-election.
OMWD's Board of Directors unanimously elected to take new seats and make Mr. Watt its next president, his second term filling this office. In addition, Ms. Guerin was selected to serve as vice president, Mr. Sprague as treasurer, Jerry Varty as secretary, and Bob Topolovac as director. These officer positions are effective for the 2017-2018 term.
Mr. Watt was initially appointed to serve on the board beginning in 2011, representing OMWD's Division 2. He previously served as president from 2013 through 2014. As the gavel was passed to Mr. Watt, Mr. Sprague was honored for his past presidency.
Prior to joining OMWD, Mr. Watt was Director of Public Works for the City of Encinitas and General Manager of the San Dieguito Water District. Mr. Watt also represents OMWD on the Association of California Water Agencies Joint Powers Insurance Authority board and serves on OMWD's Safety, Ad Hoc Finance, Ad Hoc Outreach, Ad Hoc Partnerships, and Ad Hoc Elfin Forest Recreational Reserve Strategic Planning committees.
"Water districts across California continue to face new challenges including supply reliability, wholesale water cost increases, and regulatory hurdles, and it is vital that OMWD continue its efforts to improve efficiency, remain fiscally accountable, and operate transparently for our ratepayers," said President Watt. "I look forward to leading our district as we meet those challenges while continuing to offer our customers the best service at the lowest rates possible. I encourage all OMWD customers to tour our facilities to gain a better understanding of the services we provide, and the pride we take in doing so."
Christy Guerin was originally appointed to the board in 2011. In addition to her role as vice president, Ms. Guerin also serves as OMWD's representative to the San Diego County Water Authority. 
Appointed to the board in 2011, Edmund Sprague is a Special District Member for the San Diego Local Agency Formation Commission and represents OMWD on the California Special District Association's Education Committee in addition to his role as OMWD's treasurer. 
Incoming secretary, Jerry Varty, has represented OMWD's Division 4 since his appointment in 2009. He currently serves on OMWD's Ad Hoc Finance, Ad Hoc Conservation, Ad Hoc Personnel, and Ad Hoc Elfin Forest Recreational Reserve Strategic Planning Committees.
Currently a volunteer sheriff at the Encinitas sheriff's station, Bob Topolovac is the longest tenured of OMWD's directors, originally appointed to the board in 1999. Mr. Topolovac serves as a member of OMWD's Safety Committee and Ad Hoc Conservation Committee.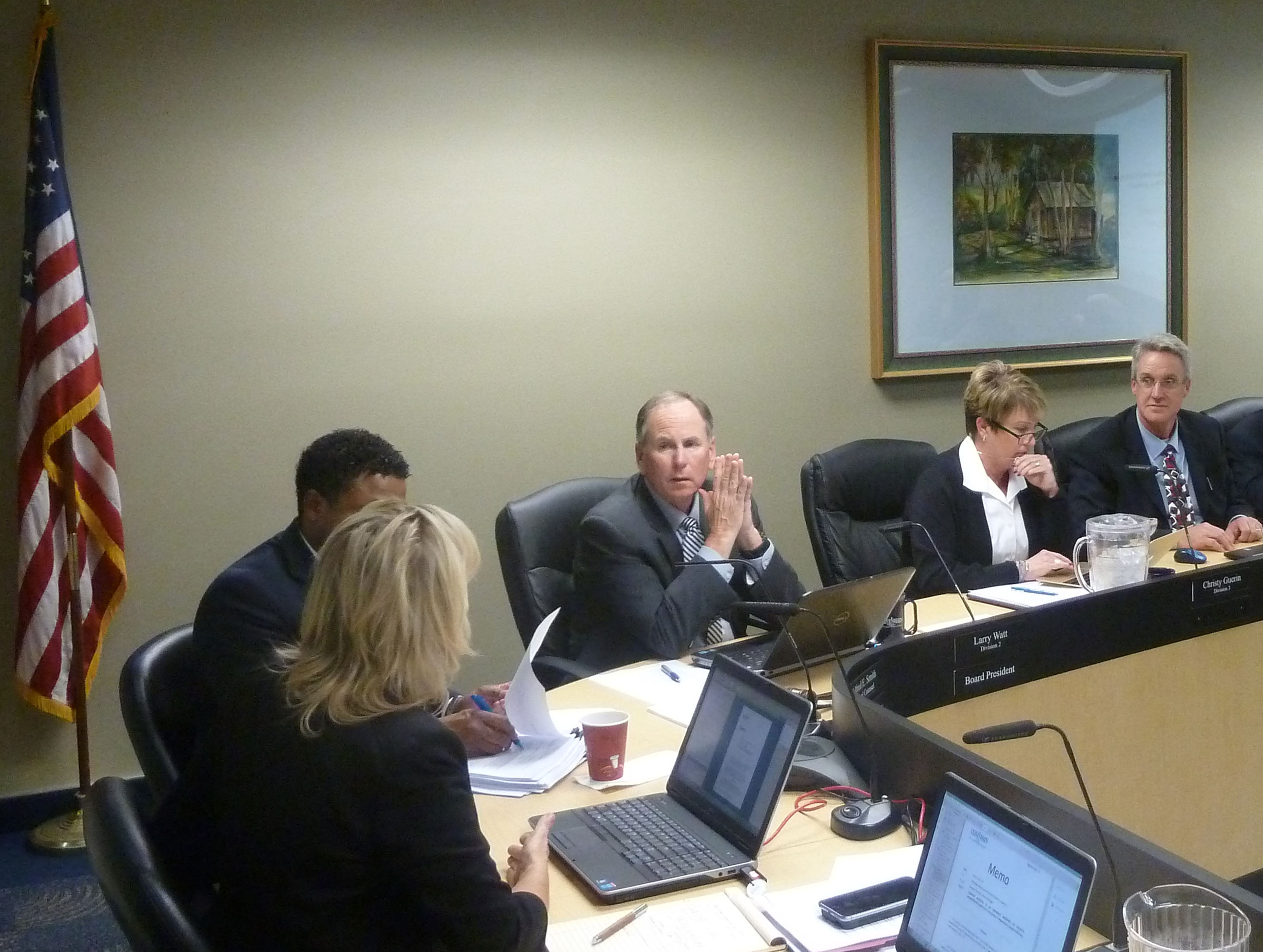 Members of OMWD's board and staff at the January 18, 2017 meeting