Olivenhain Municipal Water District Moves to Voluntary Conservation and Lowers Rates
Water Waste Continues to Be Prohibited
OMWD's Board of Directors unanimously approved at its July 20 meeting moving out of a Level 2 Water Supply Shortage and into a Level 1, effective immediately. In addition, the Board of Directors approved moving from Level 2 water rates to Level 1 water rates, effective with the July 31 bills, lowering the cost per unit of water used during June and onward. While practices that waste potable water will remain prohibited by the state, water conservation efforts in OMWD's service area are now voluntary.
"OMWD customers are to be commended for their conservation efforts," said Larry Watt, Treasurer of OMWD's Board of Directors. "Residents slashed their water use by 25 percent, cumulatively from June 2015 through June 2016 compared to 2013 usage, by scheduling free water use evaluations, taking advantage of rebates for water efficient devices, and making lasting lifestyle changes suitable for our coastal desert community."
"Lowering water rates to the same level as the current conservation requirement is the right thing to do in fairness to our customers," said Ed Sprague, President of OMWD's Board of Directors. "The State Water Resources Control Board has allowed flexibility in local water supply planning, the region currently has three years of water supply even if drought conditions continue, and customers are changing their water use habits so Level 2 water rates designed to achieve significant reductions are not required at this time."
The move to Level 1 was a result of the recent State Water Resources Control Board order allowing agencies to determine their conservation standard based on the ability to meet demands with existing supplies. OMWD customers are now able to irrigate as often as their landscape requires provided that runoff does not occur and it has been at least 48 hours since measurable rainfall. There are no restrictions limiting irrigation to specific days or times; however, the most advantageous time to irrigate is before 8:00 a.m. or after 6:00 p.m. to prevent water loss from evaporation or wind.
OMWD continues to encourage conservation and water use efficiency in order to ensure that the region will continue to have adequate supply now and in the future. These conservation efforts remain especially important as climatologists are predicting La Niña conditions to arrive this fall which generally bring drier than average conditions to California. OMWD is offering a variety of programs to encourage conservation, including site visits and rebates on water saving devices. More information about these programs is available at www.olivenhain.com.
State-Mandated Restrictions That Remain in Effect
• Do not use potable water to irrigate ornamental turf on public street medians
• Do not use potable water to irrigate landscapes of new homes and buildings when inconsistent with state building requirements
• Do not irrigate outdoors during or within 48 hours following measurable precipitation
• Do not use potable water in decorative water features that do not recirculate water
• Do not use a hose that is not equipped with a shut-off nozzle to wash cars
• Do not allow runoff when irrigating with potable water
• Do not use potable water to wash sidewalks and driveways
• Hotels and motels must provide guests with the option of not having towels and linens laundered daily
• Restaurants and other food service establishments may only serve water to customers upon request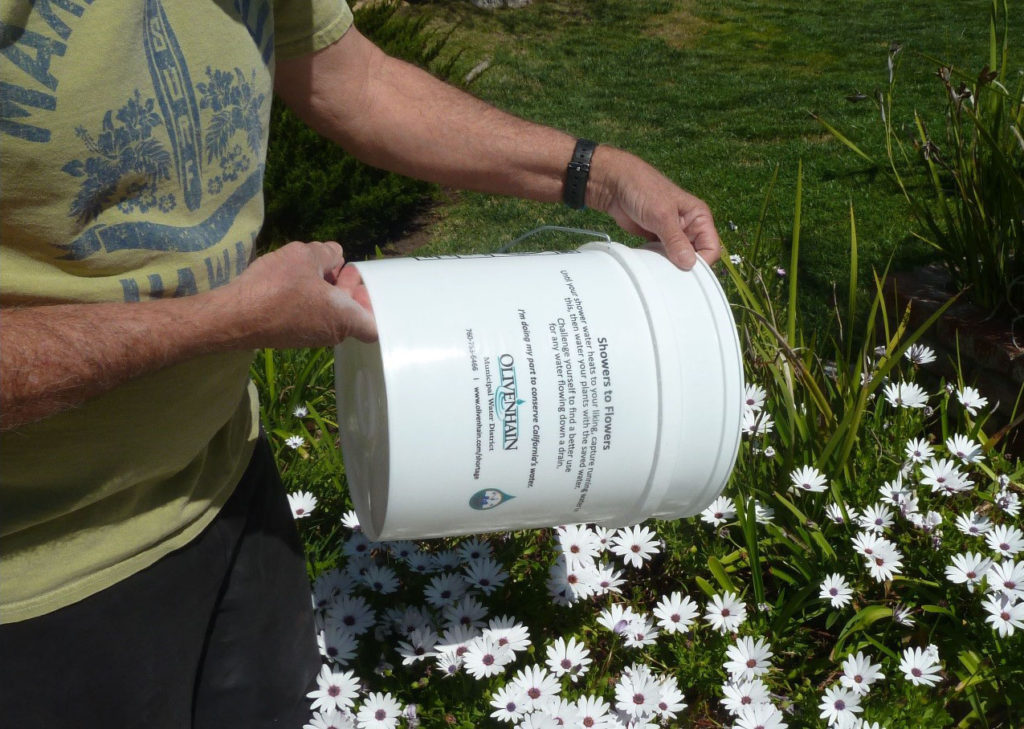 OMWD customers slashed water use by 25 percent, cumulatively from June 2015 through June 2016 compared to 2013 usage, in part by making lifestyle changes such as capturing water that would otherwise run down the shower drain and putting it to better use.