Free Water Use Evaluation
Take advantage of our free water use evaluation service to help you save both water and money. Funded 50 percent by Olivenhain Municipal Water District and 50 percent by the San Diego County Water Authority, OMWD is able to offer this educational service to promote water use efficiency free of charge.
You may contact California Landscape Technologies, OMWD's landscape program contractor, via telephone at 760-809-3241 or send an email to schedule a free water-use evaluation of your home, business or HOA common area. A certified landscape auditor and architect will provide you with a custom list of ways to improve water use efficiency, answer questions, and develop an irrigation schedule specifically for your landscape.  
What Does the Water Use Evaluation Involve?
A professional trained in landscape and home water use systems will show you where the shutoff valves are to your home and landscape, and will explain the steps you would take to determine if there is a leak on your property using the "leak detector" on your meter.
There is also an indoor component to the evaluation that may be available to determine what steps can be taken to use water efficiently indoors. The water pressure at your home will also be evaluated when possible.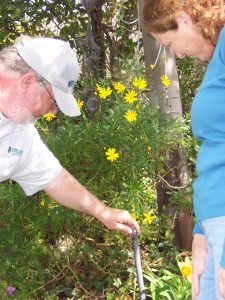 The majority of the site visit consists of evaluating the performance of your irrigation system since outdoor water use often represents more than 70% of all customer water use. The evaluator will show you how to inspect your system for leaks or breaks, and will evaluate your controller schedule to determine if the schedule is appropriate for the type of plant material being irrigated, the type of irrigation equipment used, and the time of year. This is not a specific leak detection service and there may not be time to evaluate all irrigation stations.  Sample irrigation schedules are provided as a guideline and planting recommendations can also be made as requested or appropriate.
Note: Sites are entitled to one free evaluation every three years.
 
Are There Any Hidden Charges Involved?
All aspects of this service are free. No sales solicitations will be made by the evaluators.
How Long Does an Evaluation Take?
Evaluations typically take one (1) hour or less.  Sites over an acre may qualify for a more extensive visit.
 
Am I Required to Make Any of the Changes Recommended?
The evaluators will provide written recommendations to improve the efficiency of your water use, but you are not required to implement any recommendations. Many water-saving recommendations involve adjustments to equipment and schedules that customers can perform themselves at no cost. All recommendations are prioritized to accommodate customer budgets and time limitations should the customer decide to proceed with any of the recommendations.
Do I Receive Any Additional Information?
Customers will receive a packet of information that includes brochures on California-friendly plant materials, irrigation, water pressure, leak detection, and a 10-year water-use history for the property.