Instructions on Lid Removal
Advanced Metering Infrastructure, or "AMI," refers to meters that transmit your water usage data directly to a fixed-base Olivenhain Municipal Water District receiver located in your community. Not all customers have meters that are read with AMI, but those that do will notice a black rubber circle in their meter lid, which is the radio read transmitter. Since wires are attached to these meter lids, special care must be taken when opening AMI meter boxes.
The images below show a meter box with a domestic and fire meter inside. Not all customers have a dedicated fire meter; many will only have a domestic meter in their meter box.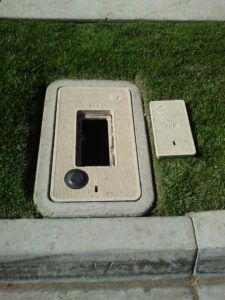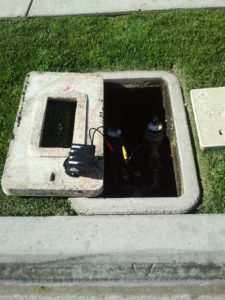 To access your meters, you will first need to remove the center piece called the meter cover lid. A flathead screwdriver inserted into the small hole can be used to lift the lid. Set the lid down to the right side of the meter box. Use a flashlight to check for bees, spiders, snakes, and other potential threats.
The meter cover can then be removed by donning a pair of gloves, then grasping the inside of the open center area and raising the lid to the left so the meter cover is upside down. Set the cover down to the left side of the box and not the right side. Failing to do so may disconnect and damage the radio read wires.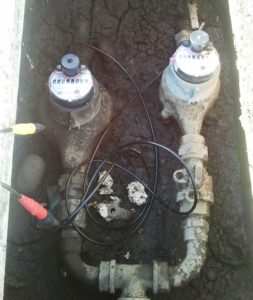 If there is a separate fire meter for your property, you may see two meters with color-coded wires in your meter box. The yellow wire is connected to your domestic meter and the red wire is connected to your fire meter.