OMWD Village Park Recycled Water Project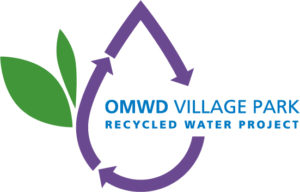 Project Summary
More than 90 percent of San Diego County's water supplies are imported and subject to drought and other potential water supply interruptions. Recycled water is a safe, sustainable, and locally produced water supply alternative that reduces reliance on these unstable imported water supplies. OMWD currently delivers nearly 2 million gallons of recycled water daily for landscape irrigation at schools, parks, HOA common areas, street landscaping, and golf courses.
Village Park has many greenbelts, HOA-maintained areas, and schools that can take advantage of this drought-resistant, lower-cost solution to imported water. In addition to reduced water rates, the benefits of using recycled water include the reduction of ocean discharge, resource conservation, and the enhancement of wildlife habitat.
The project is expected to offset up to 350 acre feet of potable water use each year once all eligible customers are connected to OMWD's recycled water system.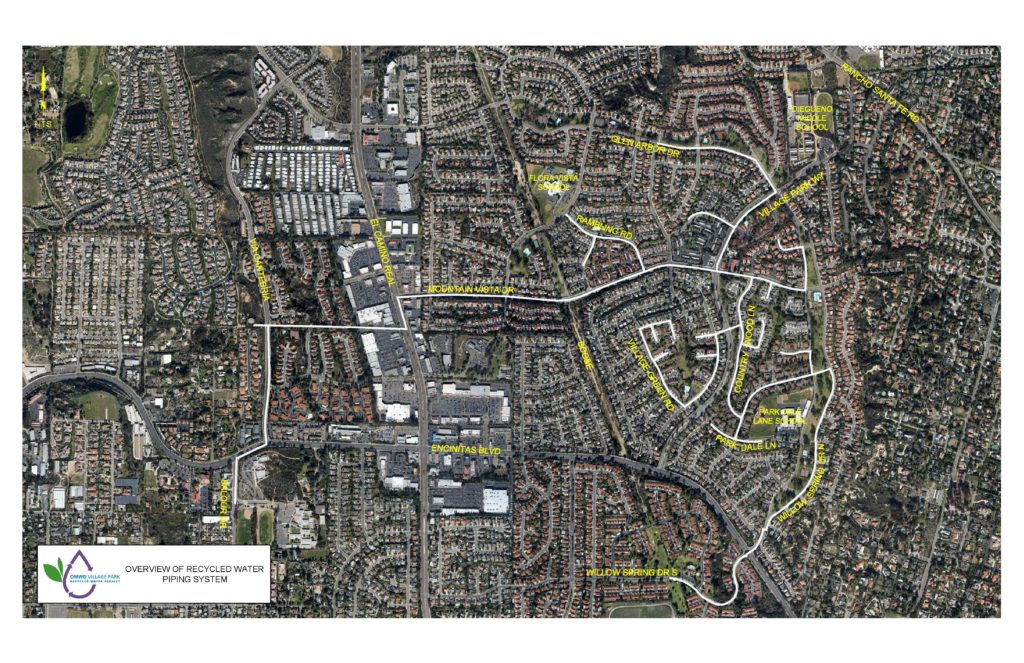 The Village Park Recycled Water Project is an element of the larger North San Diego County Regional Recycled Water Project—a collaborative effort among ten North County agencies that coordinates across jurisdictional boundaries and has already been awarded $5 million in grant funds since the coalition was established in 2009. By collaborating, participating agencies are able to more efficiently and cost-effectively connect recycled water sources with recycled water demands. In the case of the Village Park project, OMWD delivers its customers recycled water supplied from San Elijo Joint Powers Authority's San Elijo Water Reclamation Facility. Each agency and its customers ultimately benefit from the arrangement. SEJPA is able to maximize the capacity of its reclamation facility and sell additional recycled water; OMWD is able to reduce its demand for costly imported water and improve its water supply reliability.
Frequently asked questions:
1 | What is recycled water?
The San Diego area is an arid environment that relies heavily on imported water from Northern California and the Colorado River. Water reuse is essential to ensuring our communities have sustainable water supplies now and into the future. Today's advanced water treatment technology allows communities to treat all water—be it wastewater, storm water, groundwater, or seawater—to purest water quality levels. We generally refer to wastewater that has undergone advanced treatment as recycled water.
Where did the water go before it was treated for beneficial reuse?
When not purified through an advanced treatment process for reuse, wastewater from Village Park neighborhoods was treated and discharged into the ocean. We were essentially losing this vital water resource until investments in advanced treatment created a new source of recycled water for our community's irrigation needs.
Today, efforts by OMWD and San Elijo Joint Powers Authority have already saved more than 33 million gallons from being discharged into the ocean. Great progress and investments in our recycled water system allow us to reclaim this local water resource.
This new recycled water resource is now available to your community, and supports our collective efforts to save our water, keep it local, protect our environment, and ultimately reduce costs. Distributed through a separate system from the drinking water system, recycled water currently irrigates landscape at schools, parks, street medians, commercial applications, and sports fields.
2 | How is recycled water produced?
Wastewater in your neighborhood leaves homes and businesses through a network of sewer pipes and travels to SEJPA's San Elijo Water Reclamation Facility, where it undergoes primary and secondary treatment. After secondary treatment, the treated wastewater is either discharged to an ocean outfall or sent through advanced treatment for beneficial reuse as recycled water.
During the water recycling process, treated wastewater travels through a separate, highly specialized tertiary filter system. This process duplicates and accelerates nature's own purifying actions. When the water leaves the filters, more than 99 percent of the contaminants have been removed and the water is sparkling clear.
The final step in SEJPA's advanced treatment process is the addition of chlorine for disinfection. The disinfection process kills any bacteria and viruses remaining in the water that could be harmful to the public or the environment. The chlorinated water travels through a serpentine basin to ensure full disinfection.
Recycled water is distributed through a system of purple pipes, and completely separate from the drinking water system.
3 | Who is using recycled water in my area?
Since 2000, the San Elijo Water Reclamation Facility has successfully provided over 1,200 acre-feet of recycled water to OMWD, City of Del Mar, San Dieguito Water District, and Santa Fe Irrigation District. Among those using San Elijo recycled water are the Encinitas Ranch Golf Course, Rancho Santa Fe Golf Club, Del Mar Racetrack and Fairgrounds, San Diego Botanic Garden, and CalTrans.
In addition, various homeowner associations and school districts have taken advantage of this local, cost-effective supply to help keep landscape green – especially during drought conditions. These recycled water users include the communities of Sandalwood, Village Creek, and Village Park Rec Club 3 and 4, as well as Park Dale Lane and Flora Vista Elementary Schools.
4 | What are the typical steps to convert to recycled water irrigation?
Many neighborhoods have taken the steps to convert their systems to use recycled water for irrigation. Your property manager will work closely with OMWD to review a conversion plan and get the required permits and approvals from OMWD, SEJPA, and the San Diego County Department of Environmental Health.
OMWD will conduct a site visit early in the process, and your HOA will apply for a recycled water permit. The HOA will then contract with a licensed landscape architect to design the system, submitting a final draft design to OMWD and DEH for approval.
Once DEH and OMWD approve the plan, construction may commence, with inspections conducted by OMWD. Upon construction completion, OMWD will schedule inspection and testing with DEH.
After DEH certifies the site for recycled water use, OMWD will install recycled water meters. The HOA will be issued a final permit to use the recycled water system.
The property manager will need to designate a trained Recycled Water Site Supervisor. A nominal registration fee includes learning materials and a site supervisor identification card. Find out more at https://www.sandiego.gov/public-utilities/sustainability/recycled-water.  
5 | How does an HOA pay for a recycled water irrigation system?
Financing options are available for HOAs interested in investing in an irrigation system conversion to utilize recycled water. OMWD has a low-interest loan program that allows repayment through monthly water rates. Both five-year and seven-year loans are available, and the loan options can be based on several factors, including the community's three-year average consumption, (higher consumption means a shorter-term loan period).
Once the loan is granted, the HOA has six months to complete the conversion, making the new recycled water resource available for use within their community.
To learn more about loan options, please contact OMWD's Finance Manager at 760-753-6466.
Financial incentives are also available through regional water wholesaler, Metropolitan Water District of Southern California. Offered on a first come, first served basis, the On-site Retrofit Program provides financial incentives to commercial and institutional property owners, including homeowner associations, that convert potable water irrigation to recycled water use. The program provides incentives of $195 per acre-foot for five years of estimated water use, up to actual retrofit costs, until funding is exhausted. Find out more at www.socalwatersmart.com or contact OMWD's Education and Conservation Coordinator at 760-632-4641 or via email.
6 | Whom do I call about next steps?
Leveraging recycled water for landscape irrigation makes economic sense and can protect your landscape investment from drought restrictions. Not only is recycled water delivered at a lower cost-per-unit price than potable water, it already includes key nutrients for plant health, reducing the need for additional fertilizer.
Contact OMWD's Backflow and Cross-Connection Coordinator at 760-632-4201 or via email to determine recycled water infrastructure availability and how your community might take advantage of this cost-effective, environmentally responsible, and reliable water supply.