Coronavirus (COVID-19) Update

The district lobby is open with the following requirements:
Do not enter if you have a cough or fever
Facial covering is required
Maintain a minimum six-foot distance from one another
Do not shake hands or engage in any unnecessary physical contact
No more than four (4) people may be in the lobby at a time
_________________________________________________________
District tours, events, and workshops have been postponed. All other district business and operations are being performed as usual. Water quality and supply are not impacted. Thank you for your patience and understanding.
_________________________________________________________
Elfin Forest Recreational Reserve has reopened with normal operating hours in accordance with guidance from SDCountyHHSA. EFRR's reopening requires that visitors have face coverings at all times, and they must be worn when six feet of social distancing is not possible. Please do not visit EFRR if you are showing symptoms of COVID-19. Please stay tuned to this web-page for the latest news. The Interpretive Center remains closed until further notice and events scheduled to be held at the center are canceled.
_________________________________________________________
Washing hands and using wipes are vital to slowing the spread of coronavirus, but don't flush them down the toilet! Wipes and paper towels don't break down like toilet paper does. Many wipes also include plastics and materials like nylon which negatively impacts sewer systems.
_________________________________________________________
OMWD is postponing water service disconnections for non-payment on a case-by-case basis until further notice. Need help paying your bill?
_________________________________________________________
Inactive Plumbing Systems May Require Care to Ensure Safety: OMWD's water continues to meet all state and federal drinking water standards—but after water leaves the distribution system and enters private service connections, the water quality can deteriorate if water becomes stagnant. Building owners and managers should take special care with plumbing systems in buildings that have been vacant or have had periods of low water use to protect the public and employees returning to work. Because this is a national issue, the Centers for Disease Control and Prevention offers several resources for proper management of plumbing systems to reduce the risk of bacteria growth. Washington State's Department of Health recently updated its guide for building owners and managers. In addition, California's Water Boards offer guidance for reactivating service and operations. State-certified California labs can be found here.  
Your Water is Safe
With rising public concern over the spread of COVID-19 (coronavirus), you can be confident that the coronavirus has no impact on the quality or supply of your tap water.* While it's always recommended to stock food, bottled water, and medicine at home in case of an emergency, OMWD does not expect this health outbreak to disrupt service to our customers. OMWD uses the best industry practices to keep your water safe and deliver water of the highest quality, meeting or exceeding all stringent state and federal drinking water requirements. This information is detailed in our Consumer Confidence Report. 
Ultrafiltration
Ultrafiltration is a barrier filtration process utilizing specialized membranes. The water, from which the solids are being removed, passes through the membranes. Membranes provide a physical barrier to viruses, bacteria, organic pollutants, and other contaminants by preventing passage of solids larger than the pores in the membrane.* The following illustration provides a complete overview of the process.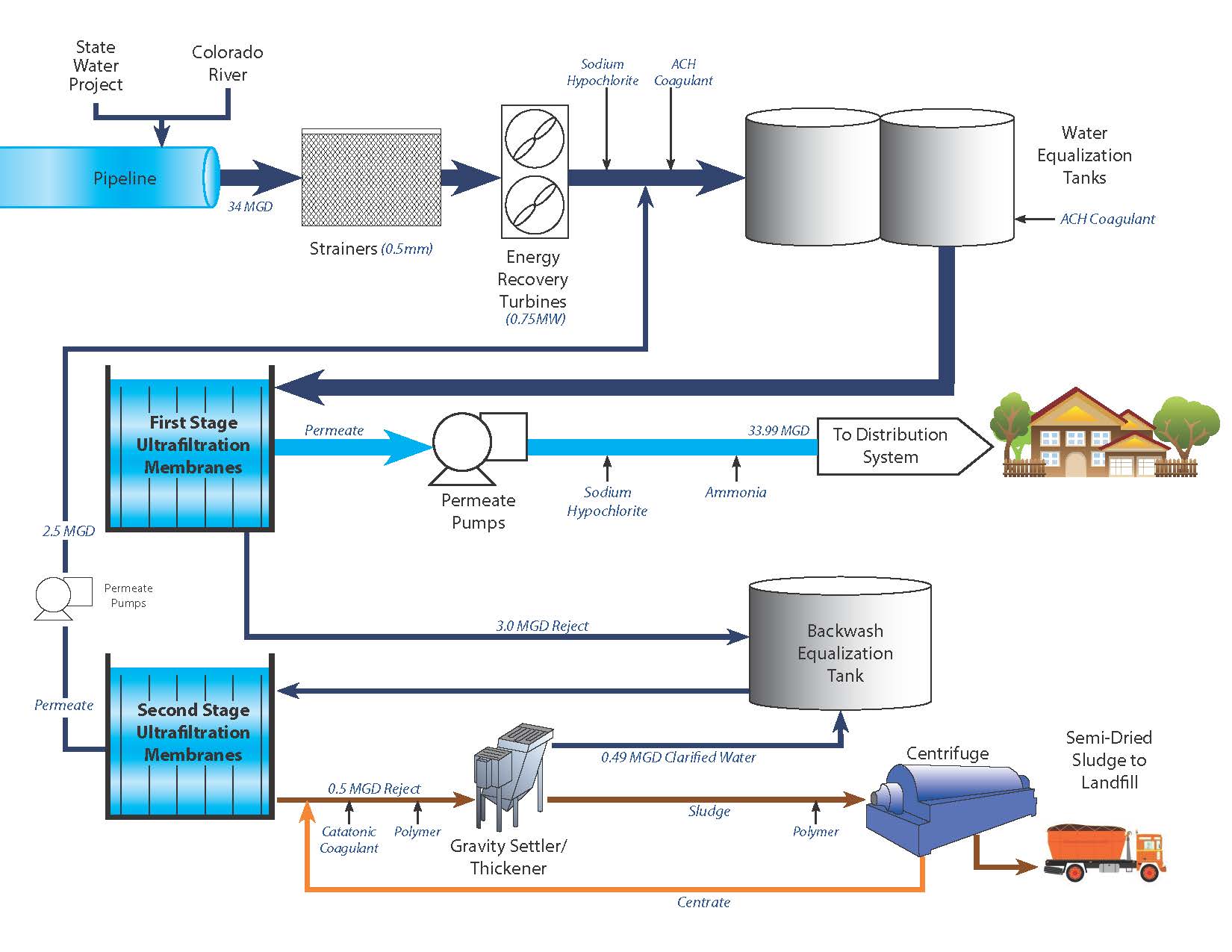 Disinfection
Once water is filtered, it then goes through a disinfection process.  In the unlikely scenario where pathogens, such as a virus, make it through the filtration process, they are inactivated when sodium hypochlorite (chlorine) is added.  Sodium hypochlorite serves as an effective line of defense against viruses.* This ensures safe drinking water for all our customers.
* = Research regarding the novel coronavirus is ongoing. According to the World Health Organization, "Currently, there is no evidence about the survival of the COVID-19 virus in drinking-water…" and that "…there is no current evidence from surrogate human coronaviruses that they are present in surface or groundwater sources or transmitted through contaminated drinking-water." "Conventional, centralized water treatment methods that utilize filtration and disinfection should inactivate the COVID-19 virus." (World Health Organization. (2020). Water, sanitation, hygiene and waste management for COVID-19. Retrieved from https://www.who.int/publications-detail/water-sanitation-hygiene-and-waste-management-for-covid-19)
Novel Coronavirus (COVID-19)
The following information is from the County of San Diego Health and Human Services Agency.
Transmission
• Through the air by coughing and sneezing.
• Close personal contact, such as touching or shaking hands.
• Touching an object or surface with the virus on it, then touching your mouth, nose, or eyes.
Symptoms
Common symptoms in an infected person include fever, cough, and shortness of breath or difficulty breathing. The CDC currently believes that symptoms of COVID-19 may appear in as few as 2 days or as long as 14 days after exposure.
Prevention
• Wash your hands often with soap and water for at least 20 seconds.
• If soap and water are not available, use an alcohol-based hand sanitizer. It should be at least 60% alcohol.
• Avoid touching your eyes, nose, and mouth with unwashed hands.
• Clean and disinfect frequently touched objects and surfaces.
• Avoid close contact with people who are sick.
• If you are sick, stay home and keep your distance from others to protect them from getting sick too.
• Cover your cough or sneeze with a tissue, then throw the tissue in the trash.
• Practice other good health habits. Get plenty of sleep, be physically active, manage your stress, drink plenty of fluids and eat nutritious food.
Resources
County of San Diego
www.sandiegocounty.gov/coronavirus/
California Department of Public Health
www.cdph.ca.gov/Programs/CID/DCDC/Pages/Immunization/nCOV2019.aspx
Center for Disease Control
www.cdc.gov/coronavirus/2019-ncov/index.html
World Health Organization
www.who.int/health-topics/coronavirus