Coronavirus (COVID-19) Update

ANNOUNCEMENTS
OMWD's lobby is open with the following requirements:
Do not enter if you have a cough, fever, or other COVID-19 symptoms.
Do not shake hands or engage in any unnecessary physical contact.
_________________________________________________________
District Operations
OMWD tours, events, and workshops are postponed until further notice.
All other business and operations are being performed as usual.
Water quality and supply are not impacted.
Thank you for your patience and understanding.
_________________________________________________________
Elfin Forest Recreational Reserve
Elfin Forest Recreational Reserve is open and operating in accordance with guidance from San Diego County Health & Human Services Agency.
Please do not visit if you are showing symptoms of COVID-19.
_________________________________________________________
Don't Flush Wipes
Washing hands and using wipes are vital to slowing the spread of disease, but don't flush them down the toilet!
Wipes and paper towels don't break down like toilet paper does.
Many wipes also include plastics and materials like nylon which negatively impacts sewer systems.
Your Water is Safe
With the spread of COVID-19 (coronavirus), you can be confident that the virus has no impact on the quality or supply of your tap water.* While it's always recommended to stock food, bottled water, and medicine at home in case of an emergency, COVID-19 has not disrupted service to our customers. OMWD uses the best industry practices to keep your water safe and deliver water of the highest quality, meeting or exceeding all stringent state and federal drinking water requirements. This information is detailed in our Consumer Confidence Report. 
Ultrafiltration
Ultrafiltration is a barrier filtration process utilizing specialized membranes. The water, from which the solids are being removed, passes through the membranes. Membranes provide a physical barrier to viruses, bacteria, organic pollutants, and other contaminants by preventing passage of solids larger than the pores in the membrane.* The following illustration provides a complete overview of the process.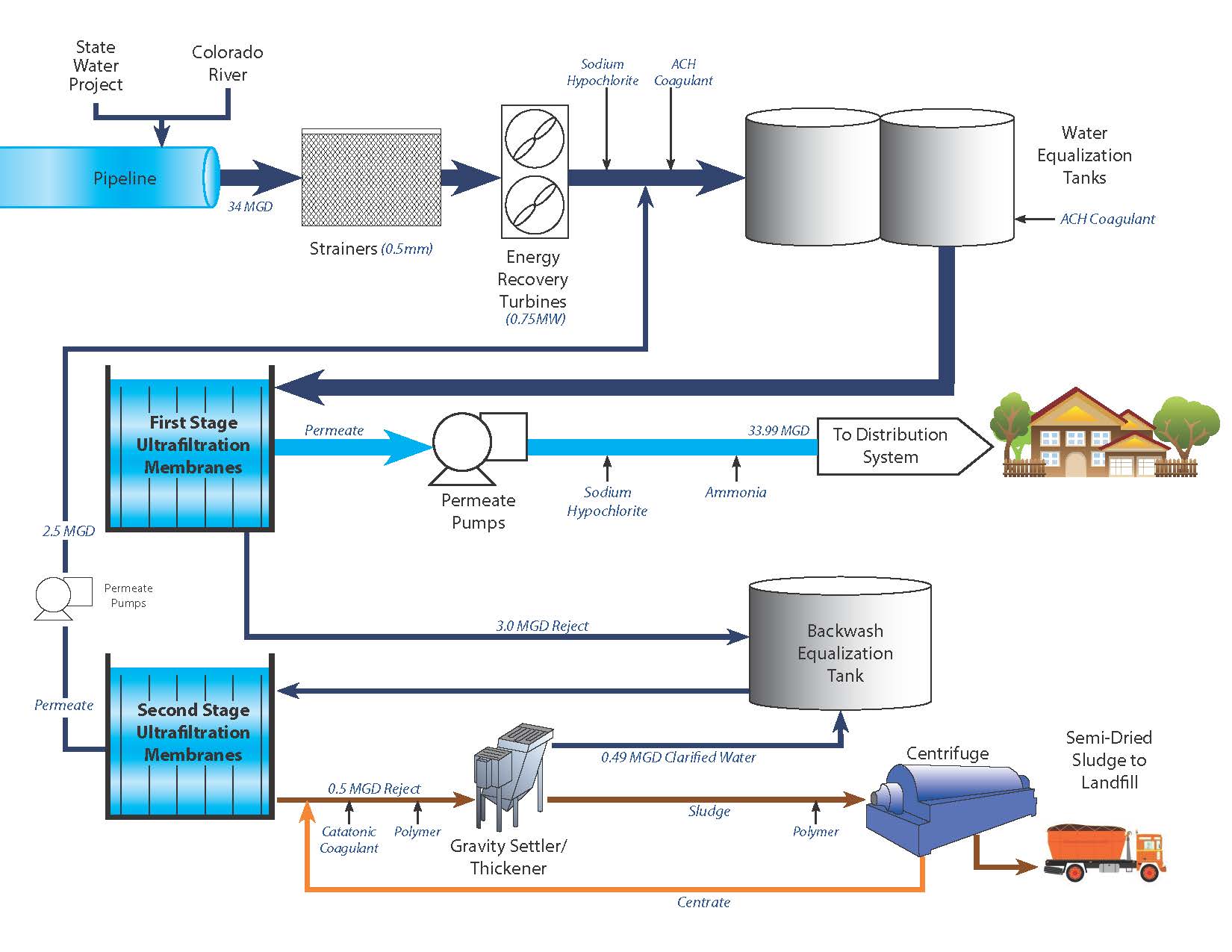 Disinfection
Once water is filtered, it then goes through a disinfection process.  In the unlikely scenario where pathogens, such as a virus, make it through the filtration process, they are inactivated when sodium hypochlorite (chlorine) is added.  Sodium hypochlorite serves as an effective line of defense against viruses.* This ensures safe drinking water for all our customers.
* = Research regarding COVID-19 is ongoing. According to the World Health Organization, "Currently, there is no evidence about the survival of the COVID-19 virus in drinking water…" and that "…there is no current evidence from surrogate human coronaviruses that they are present in surface or groundwater sources or transmitted through contaminated drinking water." "Conventional, centralized water treatment methods that utilize filtration and disinfection should inactivate the COVID-19 virus." (World Health Organization. (2020). Water, sanitation, hygiene, and waste management for COVID-19. Retrieved from https://www.who.int/publications-detail/water-sanitation-hygiene-and-waste-management-for-covid-19).